Laura Ogar, Chair
---
Bill Wright, Vice Chair
Bill was born and raised, and has lived and worked, in the Saginaw Bay Watershed.    Wright has had a 40 year career in community planning and development at agencies based in Bay City, Flint and Saginaw.  During that time, he has been blessed to participate in the creation of Bay Metro Transit, Bay City's Downtown Development Authority and the Saginaw Valley Rail Trail.  He has been able to help blend the efforts of local government, businesses and citizens through formation of the Saginaw Bay Watershed Council (one of the founding organizations of the Partnership for the Saginaw Bay Watershed), The Saginaw Basin Land Conservancy and the Saginaw Bay Watershed Initiative Network (WIN).  Bill also enjoys serving on the Bay Area Community Foundation's Environment Committee most enjoys being a husband, father and grandpa!
---
Dennis Zimmerman, Secretary
Dennis is the Supervisor for Lincoln Township, Clare County, MI.  4th term as Supervisor (running for 5th in 2016).Prior Affiliations:  Lake George POA (former Chair), Lake George Boosters Club,   Michigan Lake & Stream Associations, Inc.  (former Chair & Region 7 Vice-president), Michigan Waterfront Alliance  (1st member – Founding member), Muskegon River Watershed Assembly  (charter member),   North American Lake Management Society (NALMS)  Member, Michigan Chapter – NALMS  (MiNALMS)  Charter Member, Clare County Chapter of Saginaw Bay R C & D (Chair),   Saginaw Basin Alliance  (Member),   Saginaw Bay Watershed Council Assembly (Member), both of which merged into the Partnership for the Saginaw Bay Watershed  (1st paid-up member).  SPAC (Statewide Public Advisory Council to MDEQ for AOC remediation).  Education includes:  Michigan State University (3 – B.A.'s:   in Social Science, Labor & Industrial Relations, and Economics) Lansing Community College – supplemental classes in Social Science.
---
Peter Frauson, Treasurer
 
---
Zygmunt Dworzecki, Director
Zygmunt P. Dworzecki, moved to Akron in 2001 has been interested and involved to many committees since retiring from Chrysler in 1999. Committees are, Tuscola County Planning Commission since 2006_ Chair; Saginaw Bay Coastal Initiative member since 2006; Tuscola County Parks and Recreation_ Chair for 4 years; Farm Bureau Land Use Committee for 5 years; East Michigan Council of Governments since 2008_Treasurer; Regional Economic Development Team, member since 2008; and am now on the board for the Greater Thumb Agri-Business Corporation as Board Secretary since 2014.  With the interest of a viable environment in the community where I live and to help keep the environment clean for our next generations is my goal.
---
James Hergott, Director
Jim Hergott was born and raised in Sturgis Michigan.  He has worked a 1500 acre seed and hay farm that is all irrigated for the last 8 years.  He graduated from Western Michigan University in 1984.  He retired after 28 years from the USDA.  He is the current Executive Director of Saginaw Bay RC&D.  Jim and Dawn have been married for 30 years, they have 3 married children and 4 grandchildren.  Conservation beliefs:      Everything occurs as a cycle; We manage we do not control;     Local people know best.  Special skills Streambank stability,  livestock exclusion, Project development and implementation,  grants search and writing.Interest morel mushroom hunting and ice fishing.
---
Taylor Brook, Director
Taylor Brook is the Watershed Outreach Coordinator for the Saginaw Chippewa Indian Tribe. Taylor lives, works and attends graduate school in Mt. Pleasant, Michigan. She received her bachelor's degree in Environmental Health and Safety from Central Michigan University and is currently pursuing her Master of Public Administration. The purpose and mission of the organization follows closely with Taylor's professional goals, passions, and personal interests. The work of the Partnership for Saginaw Bay Watershed is aligned with Taylor's position with the Tribe as she seeks to protect and restore Tribal water resources and educate the Tribal Community and public on related topics.
---
Elan Lipschitz, Director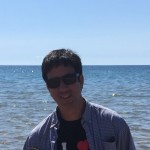 Elan is the Director of Land Conservation for The Little Forks Conservancy. The Little Forks Conservancy has partnered with private landowners in or near the Tittabawassee River Watershed to protect and preserve the unique natural features of this region. Elan works with landowners as they make their decisions about how best to preserve their properties. He works to negotiate the terms of a conservation easement if that is the route of land protection decided upon by the landowner. In addition to conservation easements, he is involved in conservation buyer transactions, evaluation of lands to be purchased by the Conservancy, land conservation planning and various partnerships with other conservation organizations. Although not from Michigan, Elan has developed a deep appreciation for the wonders of our local landscapes. Elan holds a Bachelor's degree from the University of Kansas and a Master's Degree from Bard College.
---
Robin Oeming, Director
  
---
Glenn Rowley, Director
Glenn Rowley is the Supervisor of Bangor Township.   His colorful career includes joining the Bay Area Chamber of Commerce staff in 2016 where he was the Membership Director responsible for membership recruitment and retention, additionally he worked for five years in the Insurance Restoration industry, eight years as an Insurance Agent with Farm Bureau Insurance, and five years in Finance and Insurance prior to that.   Upon graduating from John Glenn High School, he completed his secondary education at Delta College, Central Michigan University, and Saginaw Valley State University.  He is the past Vice President of the Kawkawlin River Watershed Association, Chairman of Annual Kawkawlin River Cleanup, Co-Chair of the Small Business Council of the Bay Area Chamber of Commerce, Unit Commissioner with the Boy Scouts of America, Board member for the John Glenn Booster Club, President of the Tri City League, a volunteer with a number of charitable organizations, and Member of Grace United Methodist Church.  Glenn's interests include; boating, biking, walking, bowling, golfing, and cooking.  He lives in Bangor Township with his wife Samantha and children, Andrew and Addison. 
---
Meaghan Gass, Director